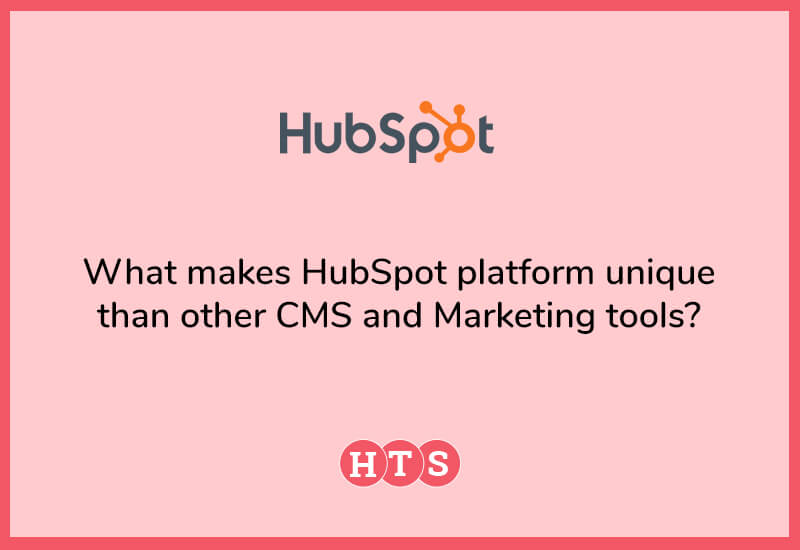 I am wondering that this the common question will have in any Digital
entrepreneur or inbound marketers. Let's check some information and facts in this article to understand it better.
HubSpot is an aggregator of all the inbound marketing tools you would need or I would say, comprehensive inbound marketing and automation software platform that allows businesses to execute, manage, and measure all their inbound marketing activities. It's all in one :
With traditional marketing softwares, you need to connect multiple tools and platforms in one or you will need to use separately for each. In HubSpot, you can create and optimize your content, nurture leads, monitor contacts as they become customers, and see how your marketing progresses.
Its competitor of the world's widely used CMS called WordPress, HubSpot CMS provides similar drag and drop environment so that non-technical marketers can use it seamlessly.
You can integrate HubSpot with other platforms: HubSpot can be integrated with WordPress, Magento, and plenty of other platforms. So if you need to nurture your leads in HubSpot while managing your website's maintenance in another, you can do just that.
It makes SEO easy: SEO can come across as a daunting subject, littered with complicated analytical data, difficult tools to master, and a horde of factors to consider just to get it right. HubSpot has a wealth of tools to help you track keywords and improve your site's ranking, as well as put out content that is SEO-friendly as well.
Get your sales and marketing on the same page: It might seem impossible based on the current way of working, but sales and marketing alignment is a genuine possibility thanks to HubSpot's CRM. It offers a wide range of sales tools and allows for closed-loop reporting from new lead to customer or evangelist.
It's analytical: Data-driven marketing is the way forward and HubSpot facilitates all the data collection you could ever want or need, to guide your marketing, and more importantly prove its value and ROI.
HubSpot's new CRM platform is an amazing addition to their existing content optimization platform. Give it a try and you'll see what makes HubSpot software so unique.
Reach us for your any HubSpot development work